Bulk Trash Pick Up – 5/13/2023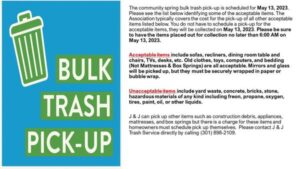 The community spring bulk trash pick-up is scheduled for May 13, 2023. Please see the list below identifying some of the acceptable items. The Association covers the cost for the pick-up of acceptable items listed below. You do not have to schedule a pick-up for the acceptable items, they will be collected on May 13, 2023. Please be sure to have the items placed out for collection no later than 6:00 AM on May 13, 2023.
Acceptable items include sofas, recliners, dining room table and chairs, TVs, desks, etc. Old clothes, toys, computers, and bedding (linens only – separate charge and scheduling required for mattresses and box springs) are all acceptable. Mirrors and glass will be picked up, but they must be securely wrapped in paper or bubble wrap.
Unacceptable items include yard waste, concrete, bricks, stone, hazardous materials of any kind including freon, propane, oxygen, etc., tires, paint, oil, or other liquids.
J & J can pick up other items such as construction debris, appliances, mattresses, and box springs but there is a charge for these items and homeowners must schedule pick up themselves.
J & J Trash Service, Inc. 301-898-2109